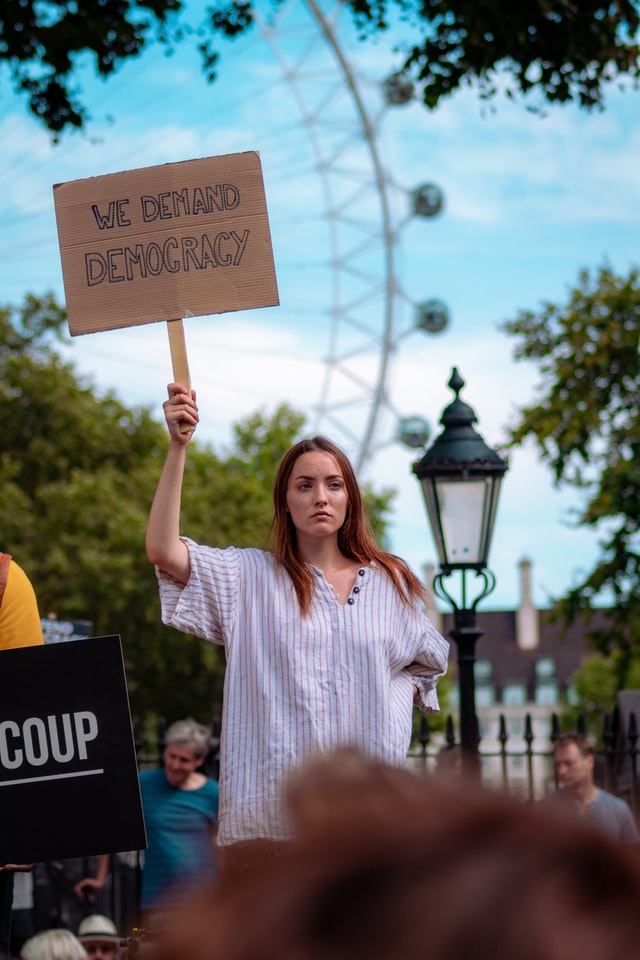 The Supreme Court Just Grabbed Women (and the rest of us) by the Pussy
I am angry today. Like seething, foaming-at-the-mouth angry. That's because, like many of you, I woke up Tuesday morning to the news of the leaked U.S. Supreme Court opinion that is set to undo generations of legal protections for women's reproduction rights by overturning Roe vs. Wade. And no, unlike Chief Justice Roberts and some conservatives, I am not upset about the leak itself. That's because in the face of a far-more alarming betrayal of the rights of women and really all Americans, I could give two shits and a fig leaf about the rights of these Supreme Court justices. Yeah, I'm that kind of angry, as should each and every American citizen, but they haven't been, not enough anyways. Sure, I am angry for my daughter and every other woman in the United States, who are just about to be set back centuries to the days of subservience to male oppression and patriarchal dominance, but I will leave those more immediate and obvious impacts to others to discuss. There are even weightier casualties and ramifications to consider. This is the first of a two-part column on how this looming decision signals the end of the core values of freedom and democracy that were once the very building blocks this country was founded upon.
Make no mistake- the Republican Party has no interest whatsoever in preserving the democratic process that the founding fathers envisioned as the representational democracy they created. They have been doing this for years, using a slow-drip process to erode the very nature of democracy itself. They know they are a minority in this country, but they want to foist their minority vision upon the rest of us nonetheless. They know they cannot win elections fairly, so they steal them, ironically whining that they have been compromised even when they lose. In fact, questioning the integrity of any election they lose has now become an actual vocalized party platform. When they win, "elections have consequences". When they lose, voter fraud must have been rampant. But their base is simply too stupid and easily-manipulated to see this patently obvious contradiction for just what it is.
After all, how did we get to this point where abortion is set to be illegal and unavailable for a majority of the women in this country even though nearly 60% of Americans support legal abortions? While the founding fathers did want to protect against a tyranny of the majority, we all must acknowledge that this kind of tyranny of the minority constitutes something far, far worse. Elections are indeed supposed to have consequences, but our elections no longer have the type of consequences the founders of this nation intended.
Due to the population demographics of this country and the way both the Senate and Electoral College are constituted, small, rural states like Wyoming and South Dakota are given far more weight than the places where people actually live, like New York and California. The founders never intended this type of disproportional representation where the votes of citizens in hillbilly havens are granted significantly more per capita influence than their more cosmopolitan counterparts. The idea was that each citizen would have equal say in the representation of our democracy, but that notion has been undone.
Nowhere has this become more evident than in presidential elections and the make up of the Supreme Court, the one institution that was supposed to be above the fray of partisan political wrangling, only to find itself deeply thrust into the equation by the devious manipulation of Republican Senators. The Republican Party has won the popular vote in exactly one presidential election since 1988, yet somehow they have nominated 6 of the 9 current Supreme Court justices. To put that in perspective, I was still in high school in 1988, and I am more than half a century old. You could be in your 30's and have only seen a Republican presidential candidate get more votes once in your entire lifetime. In two of those cases, the Electoral College failed the will of the American people by favoring small, rural states with disprorportional representation in the democratic process. But even factoring out that grave injustice to the notion of representational governance, Democrats have won 5 presidential elections during that time to Republicans 3. And yet somehow, Republicans hold a 6–3 super majority on the Supreme Court. And if you're guessing that there has to be some dirty politics involved in that, you damn well better believe it.
Now I've written about this before in a piece called "I Double Dog Dare You Republicans", published in the wake of Ruth Bader Ginsburg's passing, but Republicans blatantly stole a Supreme Court seat right in front of the eyes of the American public. Controlling the Senate due to that same hillbilly imbalance I mentioned earlier that favors small states over large in the constitution of the Senate, Republicans refused to even hear Obama's nomination of Merrick Garland a full 240 days before the 2016 election, but then, in a move of hypocritical contortion that would make even a side street busker envious, confirmed Amy Comey Barrett less than two weeks before Trump lost in 2020. And it was that kind of duplicitous power grab that demonstrated to anyone who was listening that Republicans no longer had an interest in democracy, of letting the will of the people proser in the way our founders intended.
But that's exactly it- no one was listening, especially not in the brainwashed echo chamber of right wing media. Only months later, emboldened by the total lack of consequences for their stealing of a Supreme Court seat, Republicans then staged an attempted coup, trying to overturn an actual presidential election, all under the false pretenses of election fraud with zero evidence whatsoever. Relying on an army of heavily-armed zombies to stage an insurrection of our own Capitol, they tried to subvert the will of the people, the very foundation of democracy itself by trying to simply toss out election results they didn't like. And it was only due to a handful of Republicans with some semblance of integrity and remaining faith in American Democracy that we were saved from the true downfall of America as we know it. But if you think they haven't learned from their mistakes of 2020 and installed sycophants who will pull that trigger in 2024, well, in the immortal words of Judas Priest, you've got another thing coming.
These same morons who put American flags on every vehicle they have ever owned and swear they would die defending it, have absolutely no idea of the values that flag is supposed to represent. Democracy does not easily or freely; it requires vigilance and safeguarding. It is a value many of our founders and brave heroes since have died protecting, but as Republicans have done everything in their power to undo the very notion of Democracy itself, we have sat back and idly watched it happen. And now this is the result- a total loss of our constitutional freedoms. But that, my friends, is the topic for next week's column….
Steven Craig is the author of the best-selling novel WAITING FOR TODAY, as well as numerous published poems, short stories, and dramatic works. Read his blog TRUTH: In 1000 Words or Less every THURSDAY at www.waitingfortoday.com