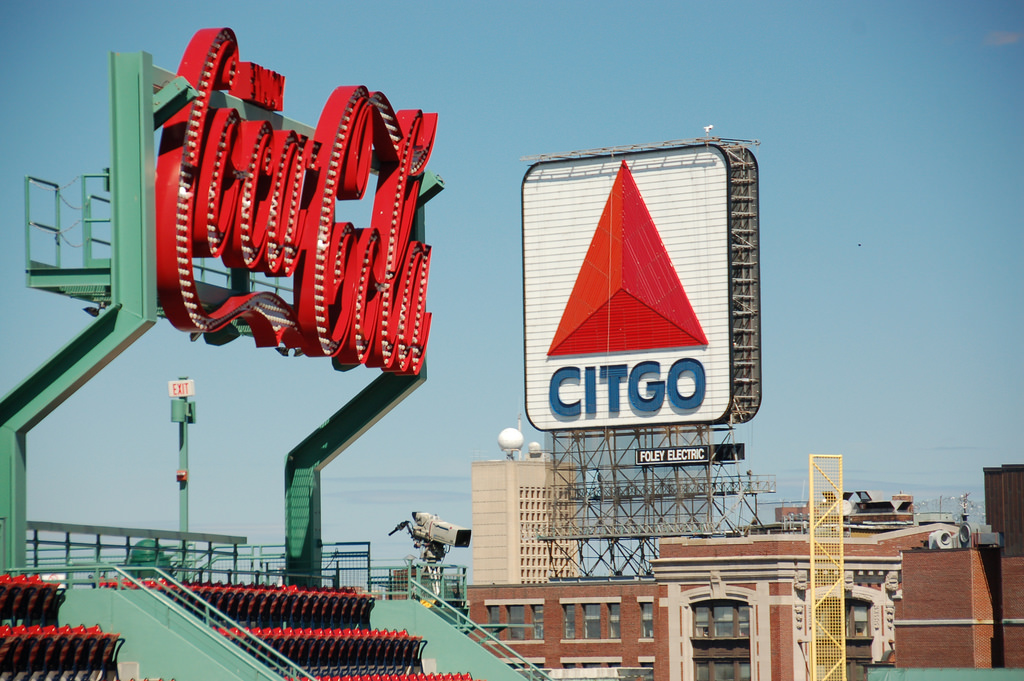 Sign of the Times
When I first started writing this little thing I like to call TRUTH: In 1000 Words or Less nearly eighteen months ago, I threw a challenge out there to my readers.  Send me a topic.  Anything.  You name it.  If enough of you wanted me to write on it, no matter what that subject might be, I would do it.  Nothing was taboo.  And you twisted psychopaths came up with some great stuff, including one of my personal favorites: "Jesus and Buddha in a Steel Cage Death Match".  Needless to say, I like the way you people think.
But then the well started to dry up.  Even as I got more and more readers and this whole thing unexpectedly blew up, the topic suggestions became fewer and fewer.  Did you folks get lazy or did you just plain run out of ideas?  Well, if it's the latter, you now know how I feel having to come up with something worthwhile each week.
So I was tickled pink the other day when my longtime friend and website designer, whom I will refer to here as Chris (mostly because his name is, in fact, Chris) sent me an article on the famed CITGO sign outside of Fenway Park and asked me to share my thoughts on the subject in an upcoming column.  Yes, I was tickled pink indeed, but I had no idea where I was going to go with this, but then it came to me, like neon lights flashing across the Boston skyline.  So thank you, Chris.  This one my, my friend, is all for you.
Because what I discovered in doing some preliminary reading about the sign was that the iconic fixture might soon be going away.  As it stands, the sign is mounted atop a building at 660 Beacon Street that belongs to Boston University.  The university is actively soliciting a developer to come in and purchase the property with the aim of redeveloping and/or repurposing the structure.  While that does not inherently include the CITGO sign itself, whoever purchases the building could very well come in and tear the whole thing down.
As such, a group of local activists, the Boston Prevention Alliance, has organized a petition to save the sign by allocating it as a historical landmark by the Boston Landmark Commission.  To date, they have garnered over 16,000 signatures for their proposal, and the city has subsequently voted to study the measure, thus rendering the sign as a "pending landmark", the first step towards the protections that would come up with historic status.
For those of you who have not been to a game at Fenway Park, the sign has loomed over the Green Monster in left field since 1965.  A somewhat gaudy and ostentatious representation of American Pop Art of the 1960's, it is as identifiable with Fenway and the Boston Red Sox as even the famed B logo stitched upon the players' hats.  As the petition reads, "The sign is visible from almost every angle of the city and Cambridge serving as a beacon for the region. The CITGO sign isn't just an advertisement, it is a Boston landmark. For national audiences, it says 'Boston' just as much as the Old North Church and the Swan Boats."  To this point, I have a mesh hat with a bright orange triangle and the word Fenway underneath it.  I get compliments on that hat from Sox fans all the time.  And I live in Denver.
But c'mon, is the CITGO sign really a historical landmark?  We are, after all, talking about Boston here, a city whose other landmarks include such notable places as Boston Common, Quincy Market, Faneuil Hall.  Does an advertisement for a petroleum company really deserve to be on this list?  Even CITGO wanted to dismantle it in 1983 before an uproar over the sign caused them to reach an agreement with the city to maintain and refurbish it.  At first glance, this hardly seems to fit the bill of a historical landmark.
But history is defined by the priorities we maintain rather than the other way around.  The symbolic significance of a structure is created by the meaning and importance we give to it, not merely by the context it may or may not have been privy to.  Yes, the Old North Church may have been the place where Paul Revere started his ride, and that may be a signal of the birth of a nation to some, but the CITGO sign was part of the epic Red Sox collapse in 2003 as well as their miraculous redemption just a year later.  It has seen ballgames, marathons, concerts, and other cultural events.  It is as much a part of the cultural understanding of the modern Bostonian as any of those other places.  Those moments have woven the fabric of the lives of many Boston residents, and if they so clearly identify with the sign, then shouldn't that be the standard way by which we value it as a cultural institution worthy of a designation as a historical landmark?
Any building only has the value, historical or otherwise, that we assign to it.  If democracy were to fade away and borders of American sovereignty be erased, what value would we find in the hallmarks of our vanquished nation?  We preserve them as a symbolic embodiment of the values we hold dear not because the brick and mortar used to create them inherently do so but because of the memories we identify with the locale.  And in that way, the CITGO sign is as much a part of Boston as Quincy Market.  So now I have an assignment for all of you.  Respond here on my website or on my Facebook page to this question: What is the non-traditional landmark that defines your city or region in the same ways that the CITGO sign symbolizes Boston?  Tell us about the iconic place that informs a real citizen's vision of your geographical area.  Let's see what you TRUTHERS out there come up with…..
By the way, I nominate Red Rocks for Denver.  Thoughts?
Steven Craig is the author of the best-selling novel WAITING FOR TODAY, as well as numerous published poems, short stories, and dramatic works.  Read his blog TRUTH: in 1000 Words or Less every THURSDAY at www.waitingfortoday.com