C is for Punt
Ah, I can smell it in the air now, can't you? As the aroma of fallen leaves and my girlfriend's zucchini harvest bread come wafting through my house, I can tell that Fall is coming. And who doesn't love themselves some Fall? Sure, it means the end of the long, carefree days of Summer, but it also means the returns of some of the blissful nostalgia that fills our Autumn days. For my girlfriend, that means nestling up under a cozy blanket and everything possible pumpkin, so much so that you didn't even know pumpkin could be used in such a myriad of ways- from lattes to baked goods to lingerie. But for me, Fall means one thing and one thing only: Football. Yes, the glory and revelry that is the sport of Football. Not that sissy European nonsense they play with, well, their feet. No, you know what I mean- manly football. The game where grown-ass men beat the absolute snot out of one another, all for the sole purpose of proprietary possession of an oblong object we for some reason call a "ball" and the back and forth acquisition and ceding of rival enemy territory. You see, watching footbal, my friends, is my guilty pleasure.
I say "guilty" because I know there's something just plain wrong about deriving my pleasure from watching two mammoth human beings pummel one another mercilessly. I am well-aware of the long-term repercussions for athletes playing a sport where concussions, traumatic brain injuries, and structural knee damage are commonplace. I've see the CAT scans for ex-players who have died by suicide years after their playing days have ended and the league has left them to battle their own inner demons induced by repeated hits to the head. After all, when my own 130lb sophomore came to me and asked to play football, it didn't take me two seconds to deliver an emphatic "Hell no" in response. But much as the bloodthirsty ancient Romans cheered on the gladiators of yore, so too do I yelp and scream when packed into the violent confines of our modern-day coliseum whose naming rights belong to a financial investment firm, often shouting epithets like "Rip his f'ing head off!!," or "Finish him!!" This is the hypocrisy I just can't escape from, the participation I both embrace and perpetuate.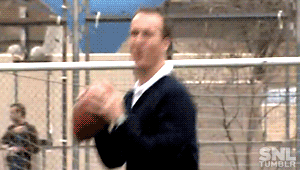 I love the speed, agility and athleticism of human beings put their bodies through the ultimate test. I love the perfectly manicured grass and the smell of beer and mass-produced plates of nachos. I love the nerdiness of fantasy football, as the delicate art of statistical probability and theoretical numerical analysis blend with the harsher realities of physics and biological limitations. I love the symphony created by the resounding echos of bone-crushing bodily collisions. I love the drama of an 18 week season, as story lines evolve and then fade in the perpetually-churning narrative of current sentiment. I love the camaraderie of intoxicated, middle-aged men with burgeoning bellies exposing themselves to the elements of a frigid upstate New York afternoon in mid-December all so that they can paint letters on their chest and together spell out "D-Fence!!" I love all of this and more, but I also know deep down the heavy price others pay for my enjoyment.
Some folks are perfectly fine with the moral inconsistencies they live by, the virtues they extol versus the day-to-day realities they manifest. But for me, this capricious contradiction leaves me feeling unbalanced and unhinged, precipitously walking a moral tightrope of my own creation. I want to love football unconditionally, to just be blithely ignorant of its more dire ramifications, but that little voice inside my head keeps haunting me with the duplicity I know I am harboring, telling me of the hypocrisy I know is valid.
Somewhere in our own inner worlds, all of us must acknowledge a discordance in our own actions within our proscribed moral code. Those of us with conscious ethical consideration might struggle to reconcile them. Others (let's just call them Trump supporters) seem to have no real adherence or allegiance to the moral codes they espouse. They are just moralistic judgments and aspersions to be cast on others, never on one's self. They somehow seem more than capable of chanting "Lock her up!" In regards to the private email server of the person they've been sheep-like told to admonish, but are just fine with the dude who stole top secret classified documents. They are the lucky ones, for they are not mired in the complex demands of moral consistency.
But for the rest of us, we lose sleep when our worlds of theoretical virtue and pragmatic action do not align. We want to be the righteousness we preach, to walk the walk of our ethical choices. But sometimes life is not so easy. We are, after all, human beings, replete with certain fallibilities and imperfections. It is in embracing those imperfections that we take one step forward in becoming our best selves, in growing into the visions we like to have of ourselves.
So go ahead and watch football on Sunday afternoons. Eat as much pumpkin bread as you can get your hands on. Life is too short to fret over every minor dalliance. Just be the best version of yourself that you can be in the present moment. And then root like hell for a Denver Broncos touchdown.
Steven Craig is the author of the best-selling novel WAITING FOR TODAY, as well as numerous published poems, short stories, and dramatic works. Read his blog TRUTH: In 1000 Words or Less every THURSDAY at www.waitingfortoday.com