I apologize in advance if I am not exactly humorous today.  Sometimes you're just not in the mood.  There are plenty of times I write for the amusement of others.  Sometimes I write just for myself.  I get to have one of those every once in a while.
Stephen Adly Guirgis once famously proclaimed that, "No parent should have to bury a child."  The same could and should be said of teachers and their students.  When teachers outlive their students, it seems to violently uproot the natural order of things, to send the entire cosmos into a disconcerting imbalance that leaves us teetering on the edge of cataclysmic upheaval.  It just doesn't seem right.
I know I am a man of aging years.  The fact that I started teaching at the ripe, young age of twenty-four doesn't make it any better when I have to acknowledge that I have former students who are sitting on the brink of forty.  Some of these young people that I taught at Berkshire School in the mid 1990's have high school aged children of their own now.  Yeah, I'm that kind of old.
But I'm not old enough that news of the death of a former student fails to shake me to my very foundation.  Yesterday I was blind-sided by the startling news that one of my former students, Pete Wadsworth, had passed away in the tragic circumstances surrounding the Ghost Ship fire that left at least 36 dead this past weekend in Oakland, California.  As I was making dinner for my children while they played in the living room on an otherwise ordinary Sunday evening, I got an email from a member of Peter's class at Berkshire letting me know that Peter, who had been living in the Oakland warehouse artist residence, had burned to death in the flames, hopelessly trapped inside with a broken ankle.  Peter's roommate, Bob Mule, a photographer, later told reporters that he had tried his best to save Peter but had been unable to drag him to safety, "The fire was getting hot, and I felt my skin melting. I couldn't breathe. It was getting too hot and I had to leave him behind. I know that he didn't make it. I yelled, and I ran out screaming his name in complete disbelief of all of this."  Sometimes I get so damn mad when people tell me everything happens for a reason.  Excuse me, but I just don't see a reason in this.
I know teachers aren't supposed to play favorites, but that's a complete load of crap.  Of course, we resonate with some students more than others, and that relationship is often reciprocal.  When I first encountered Peter Wadsworth at Berkshire, he was a nerdy and overweight outcast in a world of wealthy and athletic alpha dogs that make up the boarding school ethos.  He was also brilliantly perceptive, savagely funny, and sensitive to the wide world around him.  What I saw when I looked at Peter was myself just a few short years earlier: an angst-ridden teen who was acutely and painfully socially-aware but who had all the potential to light this world on fire.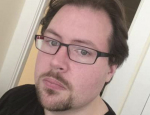 His papers were grammatically-flawed but philosophically insightful, and I pushed him to explore the boundaries of his thinking.  As he would sit in my room long after class to discuss Oscar Wilde (a personal favorite for both of us), Shakespeare or Huxley, I knew I had this kid hooked.  He was sort of like my prized protege, comprised of an intellect that had the cutting ability to see through the bullshit but the passionate heart to embrace all the world had to offer us nonetheless.
Peter was part of the first class I saw graduate in my fledgling teaching career, and in purely selfish terms, he was one of the first students that I tapped into in a profound way.  I saw the impact I had on Peter as a thinker, and I knew I had a gift for teaching.  In so many ways, he had as much of a role to play in my personal development as I had on his.
As for Peter, he grew into his intellect and became more comfortable in his own skin.  He flourished into the niche of personality he had carved out for himself, and in the world of private boarding school where style and affluence so often trumps matters of substance, Peter developed a circle of friends who saw the presence Peter carried with him.  He was a man of wit and insight that left the world a better place for the far too brief interaction he had with it.
I have a picture in my office of one of my fondest memories I have as an educator.  It's a picture of the final "Craigian" debates, the culmination of learning for my "Philosophy in Literature" elective available only to Seniors.  Considering the course's intimidating title, the lengthy reading list for the class, and the ten to twelve page final paper, it was amazing that I got anybody to sign up for the class whatsoever.  To be honest, I was kind of hoping none of the students would so that I would have less grading to do.  But led by students like Peter, they signed up for it in droves, and it was the fastest-filling Senior elective.  As to that paper, students had to cite a number of the books we had read in defending their response to the prompt: "Is there Meaning to or in the Universe?"  I know, I know- I'm a jerk for assigning that paper.  But it made students think, and several students, Peter included, ate it up.  For the final debate, Peter and his cohorts Lindsey and Brian, defended their affirmative answer to the question.  Even in his passing, Peter is convincing me of his response.
Steven Craig is the author of the best-selling novel WAITING FOR TODAY, as well as numerous published poems, short stories, and dramatic works.  Read his blog TRUTH: in 1000 Words or Less every THURSDAY at www.waitingfortoday.com